HMRC Tax Collectors have hit on a new tactic for encouraging people to pay what they owe. They have published a list of the main ways they have of identifying miscreants. Presumably the theory is that those who might otherwise try to avoid paying their due, will look at the weaponry arrayed against them and give up before they start. So what is the list?
Interrogating the Government's 'Connect' computer programme which is capable of pulling together different pieces of information, for instance that the part owner of an expensive property only pays basic rate tax.
Co-operating with tax authorities overseas using the 'common reporting standard' system.
Extending their targeting of professions which do not appear to be paying their fair whack, such as 'Buy to Let' landlords and solicitors.
Targeting high profile individuals. New 'strict liability' laws allow the revenue to prosecute evaders even when there is no evidence that they were aware that they had transgressed. Witness the plight of several well-known entertainers recently, who simply did what their advisers told them to.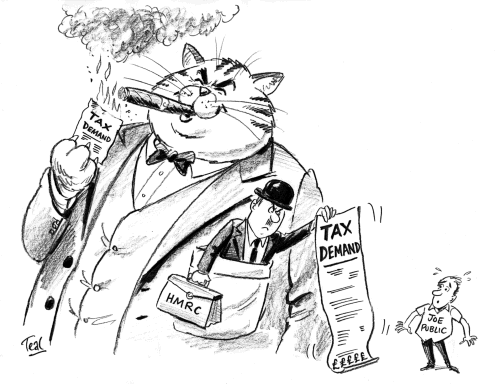 Encouraging informants. To date, more than 113,000 reports of tax evaders have been received including PAYE and NI evasion, undisclosed investments and tax credit fraud.
Using new digital matriculation systems to monitor small businesses, which the Revenue reckon account for more than half of their uncollected tax.
Keeping an eye on social media. For example posts of extravagant weddings where none of those involved appear to be well off.
Suspicious Activity reports, including for money laundering, account for hundreds of thousands of tax evasion cases, up to 1 in 4 of what the revenue deals with.
So, will this openness help the tax collectors cause? Possibly. What would help considerably more though, as has been remarked in these pages several times before, is a ban on 'Sweetheart Deals' with major companies. A notorious one in 2009 saved Goldman Sachs around £20 million. It would not take many deals of this kind to be overturned to make a very big difference to the Revenue's bottom line.
[hr]
The above is the lead article in our latest monthly News Notes – August 2017. Other topics in this edition include:
Sunset Clause
Equivalence
The 'Gig' Economy
Home Owner Sales
MiFID 2
If you would like to subscribe to our News Notes, they are available for £24 per month. Please contact us to be included in our distribution list.
Haven Risk Management : FCA Compliance Consultants