The FCA has published its final guidance on inducements. There is nothing earth shaking in it and it is rather long for what it is, but it should actually give reassurance rather than cause angst.
Principle of Business 8, 'conflicts of interest' is quoted extensively, as is SYSC, (Senior Management Systems and Controls) 6.1, 'establishing, implementing and maintaining adequate policies and procedures'. COBS 2.3.1 'rules on inducements' is also referred to a lot.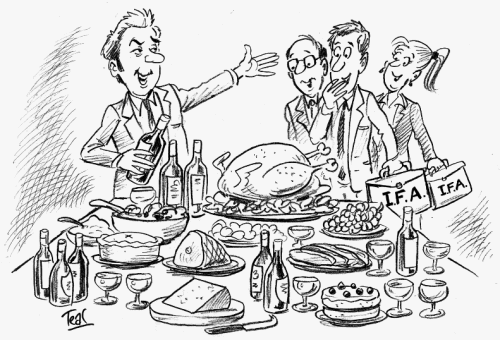 The underlying theme is, quite properly, that the clients' best interests are paramount. 'A firm may receive hospitality, gifts and promotional competition prizes of a 'reasonable value'. As with other payments, any such payment should enhance the quality of service provided to the client'.
This has to be looked at in the broad context. How does the gift of a couple of bottles of Tesco wine from a provider enhance the quality of service to the client? Well it helps to keep good relations and a closeness between provider and adviser which is to the clients' benefit. But what about a crate of rare vintage port? Well that smacks of an incentive to buy more of the provider's products which is certainly not in the client's best interests. There are various clarifications. An adviser's attendance at an event where hospitality is provided is fine, providing that the invitation was not based on the amount of business being given to the host company. Overnight accommodation being paid for is also fine, providing that there is good reason for it, for example a two day event or where location makes it impractical to travel and attend on the same day. Of course, in all cases the hospitality should be 'reasonable' which I guess is the sort of hospitality we have all been used to. The days of the overseas 'conference' are gone. 'We would expect UK based advisers to receive training in the UK'. Pity!
All in all, providing that firms have a sensible gift policy, maintain a gifts register and are not silly, there is really nothing to get up tight about.
The above is the lead article in our monthly News Notes. Please click here for information regarding these notes.