Last July the Government rejected an amendment to the Care Bill that would have forced local authorities to refer people who are in need of long term care to regulated financial advisers. Instead of being required to refer to well qualified and rigorously regulated advice, councils need only refer to advice that is independent of the local authority. This could include charities and other organisations which do not necessarily have any requirement for their personnel to be appropriately qualified or regulated to give financial advice …. before giving it.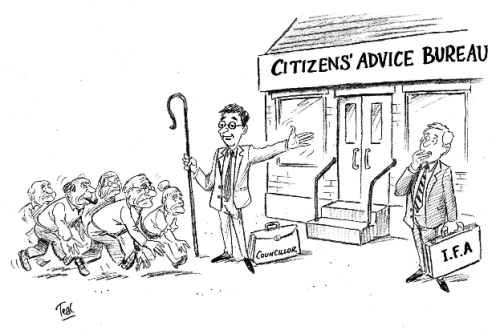 What is the point, one might well ask, in all the pain and cost of RDR and financial regulation in general if local councils a allowed to refer needy people to whoever might be their particular flavour of the month? The reason that local councils are resisting a requirement to refer only to regulated advice is said to be that they are put off by past miss selling scandals. If so this is extraordinarily shallow thinking and indicates a deficiency in due diligence. Do they know what is required to become a Chartered Financial Planner? Have they any idea of how financial regulation works? Do they realise that more than 95% of the miss selling scandals were in relation to bank advisers and bank assurance arms – the great majority of whom are now no longer functioning? The Government should not be permitting this nonsense. Having spent so much money and effort in professionalising the industry, it should insist that this professionalism is readily accessible to all those who need it most.
The above is the lead article in our monthly News Notes. Please click here for information regarding these notes.