An article appeared recently in one of the pinks where an IFA was complaining that MiFID 2 rules requiring him to undertake annual reviews, in order to justify the cost of ongoing advice, were hampering his business. He said 'The issue is that there may be some clients who do not want to pay for an annual review or the cost of doing so is self-defeating. In both cases MiFID 2 dictates an outcome which neither we nor the client want'. His 'compliance guys' tell him that he is 'between a rock and a hard place'. Well the first thing he should do of course is to sack his 'compliance guys'.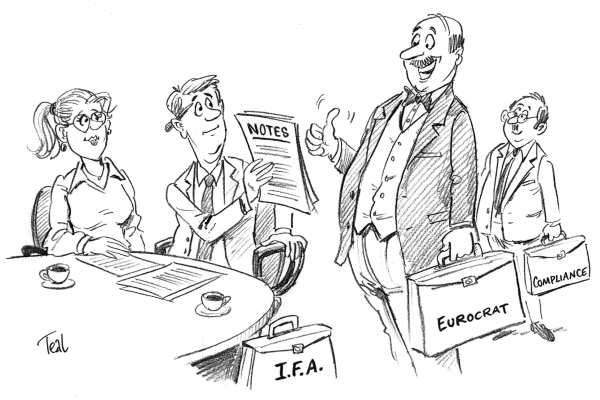 If the client does not want an annual review, for whatever reason, obtain his instruction in writing. Warn him, again in writing, of the potential downside of not having reviews, then take him off the list and adjust his fees accordingly. It would also be a good idea to confirm his instructions on an annual basis. Customer outcomes are paramount and nobody, not even the architects of the Markets in Financial Instruments Directive, can force an individual to have and pay for something he does not want. Key of course, is careful record keeping. Try telling a regulator 'Oh, he told me that he did not want annual reviews' without any evidence to back that up, and you might just as well go and get measured for your jump suit. The plethora of rules which we are having to deal with now mean that an intelligent, sympathetic and client focussed approach, with meticulous record keeping, was never more important.
---
The above is the lead article in our latest monthly News Notes – August 2018. Other topics in this edition include:
Film Partnerships
Collective Defined Contribution Pension Schemes
Regulator in the Dock
Hargreaves Lansdown
The Financial Ombudsman Service Limited
If you would like to subscribe to our News Notes, they are available for £24 per month. Please contact us to be included in our distribution list.  
Haven Risk Management : FCA Compliance Consultants