Tracey McDermott, former Head of Enforcement at the FCA and wannabe CEO, is to join Standard Chartered as Head of Corporate, Public and Regulatory Affairs. She knows the bank quite well having, until very recently, been deeply involved in investigating them for alleged wrong doings. A year ago, Standard Chartered were threatening to move their headquarters overseas, partly because of the weight of regulation in London.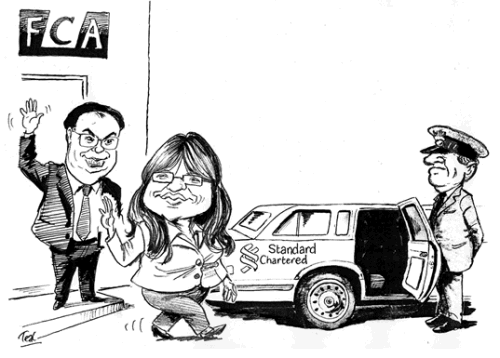 So Martin Wheatley, the then CEO of the regulator who had been giving the banks a hard time, was removed in a political sacking orchestrated by the treasury and Andrew Bailey was shuffled in sideways from the PRA. Standard Chartered scrapped the idea of moving. McDermott, who was holding the fort as stand in CEO, was not amused at being overlooked for the top job and huffed off on some gardening leave. Her gardening quickly bore fruit as here she is in a top job, with a top bank, probably earning at least twice what she was at Canary Wharf. Unsurprisingly, there has been some concern at the potential risk that the insights and information that she gained in her roles at the financial watchdog over the last 15 years will benefit Standard Chartered ahead of other banks. Not to worry. "It has been agreed" says Andrew Bailey "That Tracey will not share with Standard Chartered any confidential information that she received or obtained from her work at the FCA." So that's OK then.
[hr]
The above is the lead article in our latest monthly News Notes – March 2017. Other topics in this edition include:
Mortgage Stress
Scams and the Telephone Preference Service
ISAUP
www.we-do-your-money-laundering.com
Persons with Significant Control
MiFID II Transaction Reporting
Key Dates
If you would like to subscribe to our News Notes, they are available for £24 per month. Please contact us to be included in our distribution list.
Haven Risk Management : FCA Compliance Consultants