Last month for the first time, Saudi Arabia's stock market opened its doors to foreign investors as the kingdom seeks to diversify its economy which is currently hugely dependent on oil. The Saudi Arabian Stock Exchange or 'Tadawul' has gained more than 16% this year and is now worth around £355bn. This compares with our own FTSE 100 index which has gained 2.7% year to date but is worth £1.8 trillion, about 5 times as much.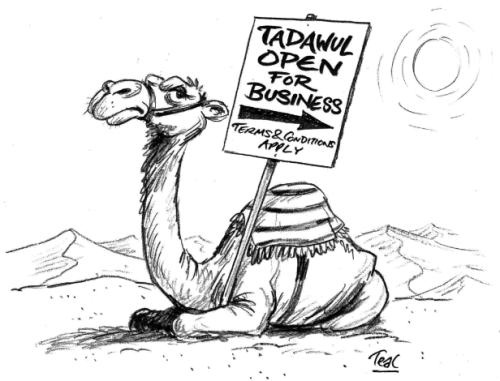 The Tadawul is currently made up of 170 companies which are focussed in banking, property, oil & gas and shipping. The Saudi regulator, the 'Capital Market Authority' is concerned that there might be a rush of speculative money into their stock market and so at this stage has restricted trading to institutions and professionals classed as 'qualified foreign investors' who must have at least £3.2 million under management and a 5 year track record. They intend to protect the integrity of their market though. Foreign investors will not be allowed to take controlling stakes in Saudi companies. The maximum holding of any single investor in a company is limited to 5% and the combined holding of all foreign investors in any company is limited to 20%.
The above is the lead article in our monthly News Notes. Please click here for information regarding these notes.